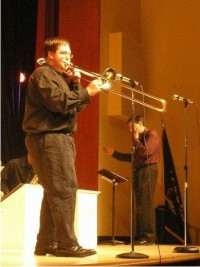 Justin Tokke was born in Vancouver, BC, Canada in 1990. In 2000, he moved to New York City and began to pursue his musical studies. He was accepted to the Frank Sinatra School of the Arts, a public arts high school founded by Tony Bennett, in September of 2004. He studied with Eli Kronenberg and Ken Lieberson in theory and composition and with William Stevens in Jazz. He joined the Bloomingdale School of Music under their ¿Music Access Project¿ (MAP) program and took professional lessons with trombonist with Rafi Malkiel and composer Jonathan Faiman and theory lessons with Brandon Vasquez.
As a classical trombonist, Justin has played principal trombone with the All-City High School Concert Band and Orchestra under the directions of Dr. Raymond Wheeler and Dr. Charles Wang respectively from 2005 to 2008; both ensembles have performed at Alice Tully Hall and Avery Fisher Hall of Lincoln Center in New York. He attended the Summer Arts Institute in 2005 and 2006 at Stuyvesant High School under the direction of Robert Rams and Bob Silberbush. He has also joined the Jazz Standard Youth Orchestra in 2006 under the direction of David O'Rourke, the York College Blue Notes in 2007 under the direction of Tom Zlabinger, and the Jazz Band Classic, an advanced level big band associated with the New York Youth Symphony, in 2008 under the direction of Chris Winans to further his jazz studies. He has attended New York State School Music Association (NYSSMA) adjudications as a solo and group performer receiving high scores for four years running.
As a composer, Justin joined the New York Youth Symphony's "Making Score" program under the direction of Derek Bermel, a program that focuses on composition study and lectures by master teachers including study with Wynton Marsalis, Tobias Picker, Jennifer Higdon, Chirstopher Theofanidis and Philip Glass. He has received several awards and premieres for his compositions. He received honorable mention for his composition French Horn Foxhunt in the Pikes Peak Young Composer's Competition and was the first-ever recipient of the music theory award at the Bloomingdale School of Music. Several of his compositions have been premiered including French Horn Foxhunt conducted by the composer and played at Stuyvesant High School during the Summer Arts Institute; his composition "Passacaglia" was premiered in 2007 by the Bloomingdale School of Music Chamber Orchestra, and his band composition entitled All Hail the Queen was premiered by the All-City High School Concert Band at Alice Tully Hall also in 2007. His most recent and significant premiere was his orchestral composition entitled "Explosions of Joy" performed by the New York Philharmonic on May 1st, 2008 for their School Day Concert for High School students.
He is currently studying at the Mannes College, The New School for Music majoring in composition. He lives in Nyack, NY.
Available Compositions
All Hail the Queen for Band
French Horn Foxhunt (Overture for Band)
Prayer for String Orchestra