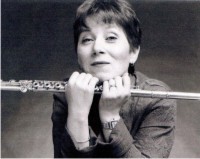 Judith Katz was born and raised in New York City, where she was a product of the New York City school system. After graduating from the well-known High School of Performing Arts, she attended the Manhattan School of Music, where she earned a Bachelor of Music Degree in Performance on the flute, and later on, a Master of Music Degree in Education. Her flute studies were with Harold Bennett, James Politis and Herbert Levy.
Judith presently freelances with various Metropolitan New York concert bands, playing both flute and piccolo. She also has an extensive teaching schedule, which divides her time between both private and public school teaching on various levels. Judith is a full-time New York City High School music teacher in Queens, NY, where she is the conductor of the concert band. In addition, she is the Center Director of the Queens Salute To Music program and the Senior Conductor of the concert band. This is a program for talented and gifted New York City music students.
Ms. Katz is an arranger as well, with two books of flute duets published by Oceanna Music Publications, Inc.
Ms. Katz is also a Nationally Registered Music Teacher, having fulfilled the rigorous requirements set forth by the Music Educators National Conference in 1996.
Available Compositions
Auld Lang Syne (Flute Quartet)
Beautiful Dreamer (Flute Trio)
E Buona La Mia Tosca (Flute Trio)
Italian Vocal Classics (Flute Trio)
Jeanie With the Light Brown Hair (Woodwind Quintet)
Palm Leaf Rag (Woodwind Quintet)
Pas de Deux (Woodwind Quintet)
Peacherine Rag (Woodwind Quintet)
Sheep May Safely Graze (woodwind quintet)
The Circus Parade (Brass Quintet)
The Twelve Days of Christmas (Flute Quartet)
Those Endearing Young Charms (Woodwind Quintet)