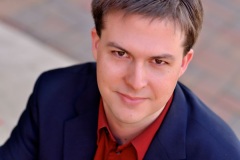 The music of American-born composer Brandon Hendrix includes works for orchestra, band, voice, and various chamber ensembles. He holds a Doctor of Music degree in Composition from The University of Texas at Austin where he studied with Donald Grantham and Yevgeniy Sharlat. He also holds a Bachelor of Music degree in Piano Performance from Southeastern Oklahoma State University and a Master of Music degree in Composition from The University of Oklahoma, where his composition teachers included Christian Asplund, Jason Bahr, and Kenneth Fuchs.
His music has been performed by notable performers and resident ensembles throughout the United States, including the Queens College Brass Ensemble, the Stone Fort Wind Quintet, Quintet Attacca, Central Brass Quintet, and The University of Oklahoma Symphony Orchestra. His music has also been featured at many prominent conferences and festivals of new music. In 2007, he was awarded a grant from the John Anson Kittredge Educational Fund in support of his nationwide travels.
He is a member of the American Music Center, the American Society of Composers, Authors, and Publishers, the College Music Society, the Society of Composers, Inc., and the Society for Music Theory. His music is published by HoneyRock Publications, Imagine Music Publishing, and Peloria Press.
Check out his personal website: www.brandonhendrix.com
Available Compositions