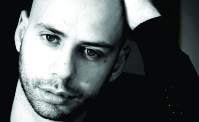 Fabio Massimo Capogrosso began studying the piano at an early age and immediately he prevaled in several national and international competitions. He won the First Prize at the "International Competition for young performers" of Cassino and the First Prize at the "National Competition city of Vasto."

The combination of a certain musical and cultural vibrancy combined with a growing spirit of experimentation led him to study composition. In 2008 under the guidance of Maestro Sergio Prodigo, he obtained the first academic degree cum laude; meanwhile, he was also interested in other musical languages and studied "music applied to images," during "Copia l'autore" held by the famous Maestro Carlo Crivelli (winner at Cannes for best soundtrack with Marco Bellocchio's Vincere). He worked on a series of scores for documentaries. In 2009, he excelled in the category of composers at the Ibla Grand Prize Competition. In October 2011, he obtained a second graduated degree in composition cum laude after the performance of the Orchestra Sinfonica Abruzzese Symphonic Poem "For perpetuam rei memoriam."

Many of his works have been performed by accomplished artists such as Marlène Prodigo, Lavinia Morelli, Sara Gentile, Anita Mazzantini, Alessandro Soccorsi, Mara Oosterbaan, Anastasia Feruleva, Sesto Quatrini, Dario Flammini, Massimiliano Pitocco, Quartet Falstaff, Nuova Synapsis Ensemble, Red4Quartet, Orchestra Sinfonica Abruzzese; and in important festivals like "Sounds of the Dolomites", UrtiCanti contemporary music festival, the
International Festival di Mezza Estate, and Caffeina Cultura 2013; among these, particularly appreciated by audiences and critics, we can mention the "Fiaba Abruzzese", the concert for two bayan and orchestra, the symphonic poem "ad parpetuam rei memoriam", the sparkling Suite for wind orchestra, the chamber works as a Un breve racconto notturno, Un breve racconto notturno, La Legenda di Mastrofuoco ("Teatro Cilea" of Reggio
Calabria, "Guarasci Auditorium" of Cosenza, "Sala Martucci" of Naples and "Teatro Comunale" in L'Aquila) and Rêve.
Available Compositions
4 miniatures per 4 instrumenti a fiato (Flute, Clarinet, Bassoon & Horn)