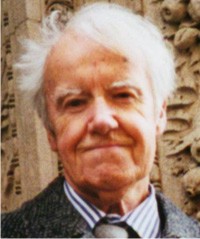 Dr. David Uber was a prominent American composer whose works for brass, woodwind, and percussion are played extensively throughout the world. His colorful career in music ranged from award-winning composer to world class trombonist, college professor to band director. Prominent artists, corporations and universities have commissioned works by Uber.
Born in Princeton, Illinois, he lived in Wyoming, Missouri, Pennsylvania, New York, New Jersey, and Vermont. After his graduation from Cartage College and receiving a scholarship to the Curtis Institute of Music in Philadelphia, Uber served four years in the United States Navy Band and then continued his studies at Columbia University where he obtained his Master of Arts and Doctor of Education degrees.
Dr. Uber was professor of music at the College of new Jersey (formerly known as Trenton State College) for thirty-three years and was recently awarded the title of Emeritus Professor of Music by that institution. In May 1999, he was awarded an honorary Doctorate of Music by Carthage College. He was a member of the faculty at the Westminster Choir College in Princeton, New Jersey and the National Music Camp, Interlochen, Michigan where he was the Director of Ensemble Music. He also served as director of the Princeton University Symphonic band for ten years. His leadership of this organization brought world-wide recognition to them. Many new works by American composers were premiered and tours with that organization brought international reputation in England, California, and Washington D.C.
As a performing artist, Dr. Uber played first chair trombone with the new York City Ballet Orchestra at Lincoln center, the New York City Opera Orchestra and the NBC Symphony Orchestra (later known as the Symphony of the Air). For many years he was solo trombonist with the NBC Television Opera, the Columbia recording Symphony, the New York Brass Quintet and the Contemporary Brass Quintet. His artistry may be heard on countless record albums under such eminent conductors as Igor Stravinsky, Leopold Stokowski, Sir Thomas Beecham, Leonard Bernstein, Aaron Copland, Morton Gould, Arthur Fiedler, Robert Irving, Fritz Reiner, Robert Russell Bennett, Arthur Weisberg, Bruno Walter, and Igor Markevich.
Dr. Uber won competitions such as the Fourth Clarinet Choir Competition Contest sponsored by the University of Maryland and Kendor Music, Inc. His award winning work, Musicale, was published by Kendor. Uber's composition Odyssey for Symphonic Band was a prize winner at Symposium III held at Radford College in Virginia. He received the prestigious ASCAP Composers Award annually from 1959 until 2007 and twice in 2006. He also twice received a Merit Award from The College of New Jersey. He won the 1990 T.U.B.A. Composition Contest with his book 22 Etudes for Euphonium.
His Processional for World Peace, commissioned by the Nobel Peace Prize Forum, received its world premiere in 1992. He received commissions for original large scale compositions from Carthage College, the Johnson Wax Company, Dakota State College, Augustana College, Princeton University, the College of New Jersey, the Hillsborough High School Band (NJ), The Fairfax City Band (VA), and The Instrumentalist.
Solo works were commissioned by such famous artists as Harvey Phillips, Don Butterfield, Frank Meredith, John Swallow, Robert Nagel, Dr. Harold Krueger, Wayne Andre, Gerard Schwarz and Lucas Spiros.
Uber appeared as adjudicator at Dartmouth College and Castleton State College and as a lecturer-clinician with Robert King Music sales.
He published more than four hundred works with nineteen major publishers. His catalog lists 421 compositions. Of his numerous publications for brass instruments, 209 are listed in the Spaeth/Schmid catalog and 22 listings are in the Tuba-Euphonium Press Journal.
He again received the 20th century award for achievement from the International Biographical Centre of Cambridge, England. Dr. David Uber was among those honored in the new book, Outstanding People of the 20th Century.
Available Compositions