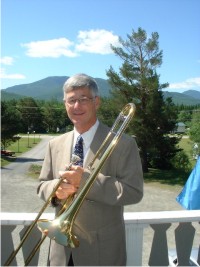 Walter Gladwin is a recently retired music teacher of 35 years. He received Bachelor of Music education from Berklee College of Music and his Master of Music from the University of Massachusetts.
Mr. Gladwin's writing experience includes professional original and arranged compositions for Wind Symphony, Concert Bands, Big and Small Band Jazz (including Dixieland, Stage, and Dance Band music), Sacred Chorale for worship or special occasions, Educational pieces for Beginner or Yearling Bands, and a jazz method for 2nd year instrumentalists.
Walter resides in Westfield, Massachusetts with his wife, Karen.
Available Compositions
All-City Beginner Band March
Sleigh Play for Band
Funky Groove School for Band
Clarina Arena for Band