Tom Schnauber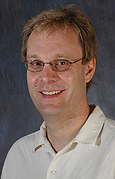 German-American composer Tom Schnauber is a versatile artist who enjoys writing for a variety of ensembles and venues. After a small stint in Hollywood scoring films no one will ever see, he turned his attention to concert music. His list of more than three-dozen works includes music for unaccompanied instruments, chamber ensembles, voice, and symphony orchestra. In addition to his ungrand opera With Such Friends..., which was featured at the New York City Opera's Vox 2007 festival, he has written musicals and incidental music for various stage productions throughout the Midwest.
Schnauber's has won awards for composition from ASCAP, the Kennedy Center, the Columbia Orchestra, and the Chamber Orchestra Kremlin. His music has been performed throughout the United States as well as in Germany, Italy, Spain, Russia, and Taiwan, and is published by, among others, Dramatic Publishing, Santa Barbara Music Publishers, and Classical Vocal Repertoire. He has also been an active performer on the French horn, and has conducted various instrumental and theatrical ensembles.
Schnauber is a member of the Boston-based composers' collective Composers in Red Sneakers, and a co-founder of the arts organization WordSong. He is an avid collector and passionate listener of LPs and CDs, and enjoys hiking, playing with his kids, and all things Star Trek.
Available Compositions