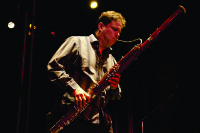 Paul Hanson's musical journey is a testament of fearless dedication to craft and creativity. Over the last 20 years, Paul has rewritten the rulebook and set new standards for what is possible on this most classical of woodwind instruments. As one reviewer puts it, "But he simply transcends technique to a point where the listener no longer has in mind that it's a BASSOON that he's playing."
His explorations have transcended limitations and created new possibilities-all while making music of the highest quality. Paul's repertoire encompasses musical aspects of all modern styles of improvised music. From his roots as an award-winning classical bassoonist and jazz saxophonist- Paul has sought to expand the lexicon of the bassoon while creating a unique musical voice.
As a jazz/fusion bassoonist
Paul has recorded and/or performed with Bela Fleck and the Flecktones, Wayne Shorter, Peter Erskine, with 6-string bassist in the group OoN, Billy Childs, Harmonica virtuoso Gregorie Maret, Billy Higgins, David Binney, Ray Charles, Charlie Hunter, Patrice Rushen, Alex Acuna, Dennis Chambers, Abraham Laboriel, Medeski Martin & Wood, Bob Weir's RATDOG, T. Lavitz from Dixie Dregs, Jeff Coffin, Jeff Sipe, Jonas Hellborg, Afro/Cuban pianist Omar Sosa, Bob Moses, Kai Eckhardt, Peter Apfelbaum and the Hieroglyphics Ensemble, The Paul Dresher Ensemble, DAVKA, St. Joseph Ballet Company, The Klezmorim, as jazz soloist with the Oakland Eastbay Symphony Orchestra, as classical soloist with the Napa Symphony Orchestra (non-improvising) and many more.
As a sax player
Paul has recorded and/or performed with Eddie Money (tenor sax soloist on the 1985 hit song "Take Me Home Tonight"), Boz Scaggs, The Temptations, Tower of Power, Steve Smith, Tom Coster, Randy Jackson, What It Is, Omar Sosa, dobroist Rob Ickes, sessions for Lucas Arts Electronic Games, Sony Music and many more.
In 2008 Paul was invited to create his own role as electric improvising bassoonist in Cirque Du Soleil's ZED-a resident show at Tokyo Disney Resort. This unique creation performed 380 shows a year from 2008-2011. Rarely if ever has the bassoon been utilized in such a fashion-to this day Cirque Du Soleil auditions bassoonists for the sole purpose of appearing on ZED in a role Paul helped develop and create.
Paul has traveled throughout Europe, Japan and the States. He has appeared as a bassoonist at Carnegie Hall, the North Sea Jazz Festival, the Berlin Jazz Festival, Monterey Jazz Festival, the Ravinia Festival, the Leverkuzen Festival, the INTERLINK festival in Japan, the California Edge Festival 2005 and at the 1999 NAMM show in Nashville.



As a performer/educator
Paul has performed and taught masterclasses at IDRS festivals from Rotterdam to Texas. He has given masterclasses at Ithaca College, Penn State University, Arizona State University, Oklahoma University, University of Wisconsin, Memphis State University, University of Northeaster Oklahoma, University of Arkansas and Portland State University-all specializing in modern performance techniques and improvisation for bassoonists and other classical instrumentalists. Paul has also been bassoon professor at Ithaca College School of Music in 2004. Paul was a featured clinician/performer at the 2013 IDRS Conference in Redlands CA.
AWARDS AND EDUCATION
Paul was the 1996 Grand Prize winner of JAZZIZ Magazine's WOODWINDS ON FIRE award-the first bassoonist ever to win. He also was the winner of the Robert Mondavi Woodwind concerto competition in 1984 in California. Paul was awarded an NEA Jazz Fellowship in 1995. Paul Hanson appears on Bela Fleck and the Flecktones album OUTBOUND which won a Grammy for best contemporary jazz recording of 2000. Paul has a BM in Bassoon Performance from the San Francisco Conservatory of Music.
REVIEWS
"..Over the past decade, Hanson has brought the double reed instrument into areas where it's seldom, if ever, gone before, combining a commanding improvisational sensibility with funk, classical and world music influences. Playing without electronic devices, Hanson produces a sound so full, lithe and flexible that it's easy to forget the mind-boggling intricacies of the instrument that's producing it. When he alters his sound electronically, the bassoon can take on eeire, jaggedly distorted or ethereal timbres. It's hard to overstate just how unlikely a quest Hanson has undertaken in transforming the bassoon from a symphony orchestra instrument into a viable workhorse for extended solos." -Andrew Gilbert, DOWNBEAT Magazine
"Not too often, musicians come along and invent their own instrument. More marvelous it is when someone takes an instrument you thought you knew, and tilts it just so - dazzling us with new reflections. Those folks are rare: Django Reinhardt, Lester Young, Bobby McFerrin, Edgar Meyer, Paul Hanson. All the adjectives are true, Paul plays at the very highest level surpassing most anyone's conception and ability on one of the most unforgiving instruments - ever. Think of playing Pagannini on the ocarina-or winning the Kentucky Derby on a camel." -Darol Anger, violinist, co-founder of the Turtle Island String Quartet
"The incredible bassoonist Paul Hanson..blew the entire audience away. The bassoon isn't supposed to be able to be played so fast but Hanson did it, digging deep into the changes, combining awesome technique and precise articulation with hot fire." - Glen Dour, California JAZZ NOW magazine
"Hanson's solos were strikingly agile; when 'unplugged', they brought to mind the boppish grace of Gerry Mulligan's baritone sax style, and when switched to 'plugged mode' ... (he) cut through the grooves with the power of a heavy metal guitar pyrotechnician." - Lee Hildebrand, East Bay Express
"Paul Hanson is an exciting and brilliant soloist - a distinctly original talent..." - Phillip Elwood, San Francisco Examiner
"Hanson is an especially facile, fire-breathing improviser on the bassoon, an instrument rarely, if ever, associated with jazz. His snake-charming lines set a distinctly Middle Eastern tone on the opening hip-hop flavored "Dirvish" while his use of electrified wah-wah effects lend a provocative edge to the odd-metered, Herbie Hancock-inspired "Blue Zardog" and open-ended blowout "Six Degrees.".... heroic soloing ....deserving of wider recognition." -Bill Milkowski-Senior Writer, Abstractlogix.com
(Paul) seemed intent on showing that he could do it all: an unaccompanied bassoon break that was a cross between Monk and Stravinsky.."(Comments published in review of Jeff Sipe's TIMELESS album.) - Jesse Hamlin, San Francisco Chronicle
...Hanson's music talks passionately about who he is, who we are, and why we're here. He infuses some of his compositions with Eastern European melodies whose beauty and intricacies boggle the mind. Hanson's facility and imagination on the bassoon are unparalleled." - JAZZ IN FLIGHT, Oakland CA
"Expertly wielded by Paul Hanson...the bassoon may not be the most widely used instrument for fusion leads, but it sure works. The distinct character of the instrument brings a reedier, more earthy, live- and-up-close quality... Hanson handles its many colors with dexterity..."-Astro Boy Blues was noted in the Jazz Times (8/97, p.69)
.."I have been a professional saxophonist for 15 years and I guess I know a little about what he's doing in terms of dexterity. Easily for all to be seen on this album where he plays one number on the tenor. But he simply transcends technique to a point where you no longer have in mind that it's a BASSOON he's playing. Of course I love his sound on bassoon. His speechlike cadenzas, his yearning upper register cries. But most of all I'm drawn to what he has to say. There is such a complexity and density of emotions like in "We'll be Together Again" on his "Voodoo Suite" that I just can't turn away from it.
I have to admit I stumbled on his recordings in search of something a little odd. Something that proved the bassoon isn't capable of being played as jazz instrument. Heard some old recordings before by Illinois Jacquet playing the bassoon that impressed me somewhat less. But having heard the first piece of his "Voodoo" Album (Woods of Red) instantly made me ask myself why I had missed out on this superb music for so long.
As you may have noticed, this is not only a review of "Frolic". This is for all who read this to check out Hansons music. It would be hard to bear if a musician of his stature should go unnoticed..."
Michael Blue, reviewer for Amazon.com


ENDORSEMENTS AND "GEAR"


Paul is a Moosmann Bassoon Artist He currently uses Legere Bassoon and Saxophone Reeds. Paul uses Leitzinger bocals. He is currently using a Trent Jacobs Little Jake bassoon pickup and occasionally the FRAP pressure transducer for electric playing. Paul loves Neumann and B & K microphones for studio and live. For effects-Paul likes TC Electronic, Line 6, Boss, and Roger Linn gear.


OTHER INTERESTING PAUL HANSON FACTS


Paul plays a Selmer Mark VI Tenor Sax and a Selmer Mark VI Alto Sax. He plays a Yamaha Professional Soprano Sax, a Selmer Bb Clarinet and uses Logic Pro for his personal studio. He is a Mac user.


Available Compositions