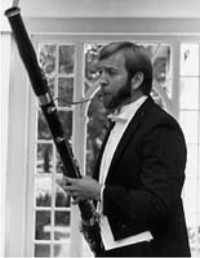 Dr. Matthew Morris is Visiting Assistant Professor of Bassoon & Music Theory at the Ohio University School of Music in Athens. He previously served on the faculties of Baylor University, Valdosta State University, and the University of Virginia. Since 1997, Dr. Morris has been a member of the bassoon faculty for the Masterworks Festival, which is held each summer at Grace College, in Warsaw, Indiana, and a faculty member for the first Masterworks Europe Festival in London, England in 2004.
Dr. Morris holds the BM in Music Theory from East Carolina University, the MM in Bassoon Performance from Baylor University, and the DMA in Bassoon Performance from Florida State University. His principal bassoon teachers are Jon Pederson of the North Carolina Symphony, Brian Kershner at Baylor University, and William Winstead at Florida State University.
Dr. Morris has performed in numerous festivals, concert series, radio-television broadcasts, orchestral and chamber music concerts in the United States and abroad. Among these are appearances at Carnegie Hall, the Bolshoi Beater and the Kennedy Center for the Performing Arts in Washington, D. C. He served as principal bassoonist with the Valdosta Symphony and performed with Albemarle chamber music ensemble. He has presented master classes, conducted workshops, and served as an adjudicator on the junior high through university levels.
Among his recordings are a Klavier disc with the National Chamber Players [wind works by Richard Strauss, Dvorak, and Mozart], a Virginia Arts disc with the Albemarle Ensemble [works of Walter Ross], and an Am/Cam disc also with the Albemarle Ensemble of music by Persichetti. Dr. Morris has also served bassoon soloist on two PBS "American Experience" productions and for the National Geographic series.
Available Compositions
Agincourt Song for Oboe, English Horn, Bassoon, and Contrabassoon
Three Courtly Masquing Ayres for 2 Oboe, 2 English Horn, 2 Bassoon
Intermezzo (Oboe, English Horn, Bassoon, Contrabassoon)