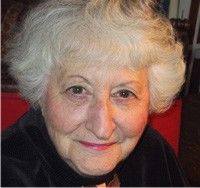 Julie Mandel, composer of both theater and classical music, studied 12-tone composition with Ernst Krenek, and composition with Erik Zeisl. She was a member of the BMI Musical Theater Workshop, and has been providing scores, (music & lyrics) for such musical theater works as A Glorious Day, based on G.B. Shaw's play, Getting Married, produced at the Westside Dance Project and recently at the York Theatre. Other theater works have been produced by such prestigious organizations as the National Theater for the Performing Arts, Theatreworks, and the National Music Theater Network. Her new musical theater work, Subway Suite, was premiered in the Goldstein Theater at Queens College in December of 1999.
Her Trio for Flute, Viola, and Harp, and her String Quartet #3 are both published by Theodore Presser. She has received the Burton Award for Contemporary Music (2002) for her String Quartet #3 recorded by The Meridian String Quartet on their CD "Diverse Light." She has received many ASCAP Awards and several awards from Meet The Composer. The American Chamber Ensemble has recently included her works in their programs. These include Confections, Three Pieces for Clarinet and Piano, and Two Songs for Soprano and Piano.
This past year her one-act opera I Wish, I Wish, I Wish and her short story set to music for Soprano, Clarinet, Piano, and Narrator, based on a I.L. Peretz story, was performed at a festival of Women Composers at Otterbein College in Ohio.
Ms. Mandel is a member of New York Women Composers, and Treasurer of The Long Island Composers Alliance.
Available Compositions