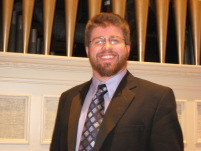 Jeff Frost was born and raised in Traverse City , Michigan . In 2006 he received his Bachelor's in general math and International minor in German from Michigan Technological University . He now lives in Lancaster, Pennsylvania (with his wife and two sons) and works on the Strasburg Rail Road as a machinist, steam locomotive mechanic, steam locomotive engineer/fireman and conductor.
He has been involved in music for many years and plays the trombone, tuba, baritone, some trumpet and plays in a hand bell choir. Starting in 2002 he has arranged songs for choir and orchestra for Traverse City West Senior High. In high school he played the lead trombone in the jazz band and jazz combo, tuba and trombone in the orchestra and tuba in the symphonic band. He also sang in two choirs. In the spring of 2002 he played at the Kennedy Center in Washington, D.C. with a jazz combo from Traverse City West Senior High. Also in the spring of 2002 he sang in the Traverse City West Senior High choir under the direction of Sir David Wilcocks.
While attending college at Michigan Technological University (graduated with B.S. in general math and international minor in German) he played the trombone (reading the alto trombone part) in the Keweenaw Symphony Orchestra, played the bass bone and tuba in jazz band and played the trombone, baritone and trumpet in the symphonic band. During the 2003/04 college school year, he studied at the University of Stuttgart, in Stuttgart, Germany, and played trombone in their jazz band and sang in the choir.
In the spring of 2008 he started composing for full orchestra. In the early summer of 2009 he composed his first symphony, Great Lakes Symphony, and continues composing for full orchestra, concert band, brass quintet, string quintet and hand bell choirs. His music has been played in Michigan, Maryland, Virginia and Pennsylvania and in Germany. He still plays the trombone locally in a brass quintet and in some local musicals. Presently he has pieces being published by Imagine Music and Cimarron Music Press.
Available Compositions
Be Thou My Vision (Brass Quintet)
Late Autumn and Snowy Splendor (For Orchestra)
O Come, All Ye Faithful (Brass Quintet)
Salvation is Created (Brass Quintet)
Summer Storms and Waterfalls (For Orchestra)
Sunset Over Lake Superior (For Orchestra)