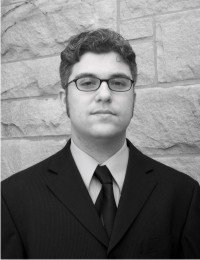 David Angelo Ciancaglini is a composer, private teacher, and multi-talented woodwind player from the Finger Lakes Region of New York. Mr. Ciancaglini is an alumnus of George Mason University (Fairfax, VA) where he studied Bassoon, Contrabassoon and Composition/Orchestration.
As a student at George Mason University, Mr. Ciancaglini studied Bassoon with Douglas E. Kehlenbrink of the Wolf Trap Orchestra and Truman Harris of the National Symphony Orchestra. In addition, he studied Composition with Steve Antosca, Director of the Contemporary Music Forum of Washington, DC. David has also had the pleasure of studying Contrabassoon with Fraser Jackson of the Toronto Symphony Orchestra. As an avid musician, David has played at George Mason University and other notable Northern Virginia venues. He has also had the honor of performing at Walt Disney World's Magic Kingdom, Washington DC's National Cathedral, The John F. Kennedy Center for Performing Arts and Carnegie Hall.
Mr. Ciancaglini has composed more than eighty pieces for various types of standard ensembles ranging from solos and duets to symphony orchestra, many of which are available through his personal website: www.CherryBlossomOverture.com. He specializes in combining the sounds of instruments to form unique ensemble mixtures while staying true to each instrument's timbre. David also composes with the goal of writing "picture music", invoking vivid scenes in the minds of audience members. Mr. Ciancaglini has been commissioned by several ensembles including an area high school band and the Staccatos woodwind quintet. He has recently received support from the Prime Minister of Canada for his piece Symphony No.1, "The Queen's Canada".
Currently, Mr. Ciancaglini is a member of the International Double Reed Society, the World Clarinet Alliance and the American Composers Forum. He resides in Geneva, New York with his wife, Jessica, where David was born and raised. Mr. Ciancaglini's other great passion is volunteer firefighting for the City of Geneva's Hydrant Hose Company.
David Angelo Ciancaglini is the son of a Hammond B3 player and is proud of it.
Available Compositions
Cherry Blossom Overture for English Horn, Piano (optional percussion)
Seikilos Quartet (Oboe, Bassoon, Marimba, Piano)