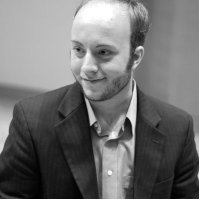 Composer Chris Owenby (b. 1986, Atlanta, GA) holds a Master of Music degree from Georgia State University and a Bachelor of Music degree from LaGrange College.
His music has been performed by the Goliard ensemble, the Northwestern College Choir, the Dekalb Choral Guild, the Flint River Trio, the Brass Standard, the LaGrange College Singers, the Sons of Lafayette, and members of the Atlanta, Columbus (Georgia), and LaGrange Symphony Orchestras. His music has received recognition at the College Music Society's 2010 and 2011 National Conferences, the College Music Society's 2012 Southern Regional Conference, Vox Reflexa's New Millenium Composer's Forum CD Project, and the Dekalb Choral Guild's 2009 Young Composer's Competition. His music has been published by Emerson Music and Imagine Music publishing companies and has aired on National Public Radio, the Immanuel Broadcasting Network, White Dove Radio, and Bigloo Christian Radio among other stations.
Currently, Owenby serves as Minister of Music and Other Arts at Kennesaw First United Methodist Church (GA), teaches music theory and composition at the Master's Academy in Kennesaw, and is the artistic director and conductor of the Joyful Noise Children's and Youth Choirs in Marietta, GA.
Available Compositions