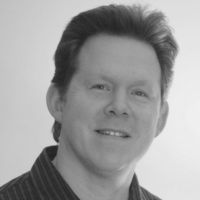 Chris Milmerstadt's music has been premiered in Québec Canada at the Société de Musique Contemporaine, Nürnburg Germany, Eindhoven Netherlands, and recently at the International Society for Contemporary Music (ISCM) Zürich, Switzerland, and the International Double Reed Society (IDRS 2014). One of his music compositions, "5 Pieces after Paintings by Paul Klee", is currently housed at the archives of the Zentrum Paul Klee Museum, Bern Switzerland. His music has been performed at the US Library of Congress, Washington D.C., and other prestigious venues in North America and Europe. He has composed works for symphony orchestra, voice and instruments, string quartet, chamber ensembles, and various instrumental combinations and solo instruments.
Mr. Milmerstadt studied composition at the University of Buffalo under Yvar Mikhashoff and Rodney Sharman. Since then he has spent much time continuing his theoretical studies and formulating his own music theories which he has applied in his latest works.
He currently lives in New York with his wife and three daughters.
Available Compositions