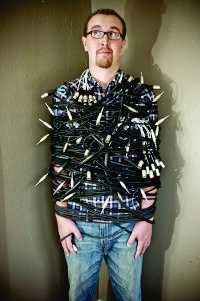 Robert McClure's music attempts to discover beauty in unconventional places using non-traditional means. Visual art, poetry, the natural world, neurological, and mathematical concepts are all elements that influence McClure's works. His work has been featured at festivals and conferences including the New York City Electronic Music Festival, the Mid-American Center for Contemporary Music (MACCM) New Music Festival, the Sonorities Festival of Contemporary Music, the Toronto International Electroacoustic Symposium, the North American Saxophone Alliance National Conference, the Society for Electro-Acoustic Music in the United States (SEAMUS), and the International Computer Music Conference (ICMC).
McClure's music has been commissioned by individuals, ensembles, and organizations including MACCM, IronWorks Percussion Duo, Trio Sonora, Liminal Space Contemporary Music Ensemble, the BGSU Student Percussion Association, and the Toledo Symphony Orchestra. His piece Integrated Elements No. 3 "Divide by Five" for African xylophone and fixed media was named the Winner of the 2013 Frame Dance Composition Competition. His audio/visual installation …the paint while it's dripping received the prize of Best Digital Art at the celebrateArt 2012 Festival in Houston, TX. His dissertation work for large orchestra titled, Warning Colors, received the Paul and Christiane Cooper Prize in Composition (2014) from Rice University.
McClure's music is published by Bachovich Music Publications, Innovative Percussion, Media Press, Inc., Resolute Music Publications, and Tapspace Publications. He has earned degrees from Bowling Green State University (B.M.), The University of Arizona (M.M.), and Rice University (D.M.A.) during which his primary mentors have been Daniel Asia, Shih-Hui Chen, Arthur Gottschalk, Richard Lavenda, and Kurt Stallmann. He holds the position of Assistant Professor of Composition at the School of Music at Soochow University in Suzhou, China.
Available Compositions