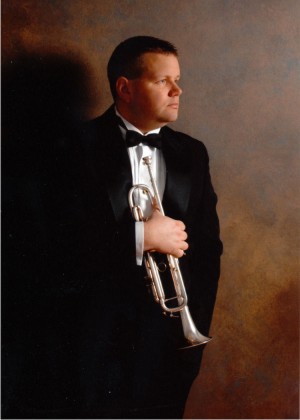 Tim Eick is a graduate of Mansfield University where he received his Bachelor Degree in Music Education and his Master Degree in Music Education with an emphasis in instrumental conducting.
Tim has an extensive background in marching band as well as drum and bugle corps. Winning championships in the NYSFBC and TOB, he has worked with marching bands in both New York and Pennsylvania. He has participated in DCA and Division III DCI serving as a visual coordinator, drill designer, horn instructor, and music consultant. Most notably, he has won three out of five DCA World Championships with the Empire Statesmen Drum and Bugle Corps, as well as the World Band Championships in London, England in 1998.. Tim has been horn caption head for the Eastridge Lancer Marching Band from Rochester, NY where they won the NYSFBC Championship in 1998 and 1999.
Tim's passion for the stage has brought him to the theater frequently. He has built sets and conducted musicals the university, public school, and community theater level. He has worked as a trumpet player and conductor in such shows as, bot not limited to, West Side Story, Les Miserables, Evita, Joseph and the Amazing Technicolor Dreamcoat, Assassins, Grease, Singing in the Rain, The King and I, and Barnum. Tim also composed the orchestration for the musical premiere of Cows: The Moosical Musical.
Tim is currently the band director at Pocono Mountain East High School in Swiftwater, Pennsylvania where he teaches 9th grade concert band, High School concert band, two jazz ensembles, and marching band. In 2005, Pocono Mountain East Marching Band attended the Macy's Thanksgiving Day Parade in New York City.
Outside of school Tim is a freelance musician and a member of the Dave Neith Jazz Orchestra from Bethlehem, Pennsylvania. When he is not involved with bands or theater, Tim remains active arranging music for concert bands, marching bands, and small ensembles. He most enjoys spending time with his wife and son residing in Easton, Pennsylvania.
Available Compositions