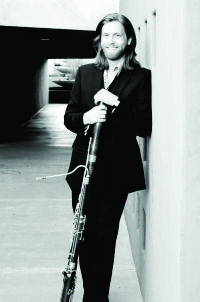 Thomas Mark Breadon, Jr. is a teacher, bassoonist, and composer living in Phoenix, Arizona. He is currently teaching music theory and applied bassoon lessons at Glendale Community College, and teaches group bassoon lessons at Rosie's House, a non­profit music academy for children.
Thomas most recently joined the Mill Ave Chamber Players, a Phoenix based woodwind quintet, now entering its ninth season, which seeks to strengthen communities in the Valley through quality chamber performances.
Dr. Breadon completed his Doctorate of Musical Arts at Arizona State University in December of 2015 and holds Masters Degrees in Bassoon performance and Music Theory from The University of Akron, as well as a Bachelors in Music Performance from Morehead State University.
Available Compositions