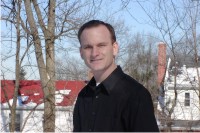 A native of the San Francisco Bay Area, Robert Denham holds a DMA in composition from the University of Cincinnati College Conservatory of Music (CCM) where he studied with Michael Fiday, Joel Hoffman, and Ricardo Zohn-Muldoon. His other degrees are from UCLA (MA Composition) where he studied with Roger Bourland, Ian Krouse, and the late Jerry Goldsmith, and Biola University (BM, Trumpet Performance). Mr. Denham manages the annual new music festival MusicX, a position he has held for five years, and teaches Theory and Composition at Northern Kentucky University.
Denham's music includes works of every genre and has been performed across the United States and Europe by such performers and ensembles as Timothy Lees (Concertmaster, Cincinnati Symphony Orchestra), the CCM Philharmonia, the Los Angeles Flute Quartet, the Orion Saxophone Quartet, the CCM Chamber Players, and the Academia Musicale di San Casciano Orchestra e Coro di bambini (Florence, Italy). Performances of his music include such notable venues as the 2006 SCI National Conference, Composers Inc., Culver City Chamber Music Series, the Pacific Contemporary Music Center ( Long Beach CA), and the Ernest Bloch Festival (Newport OR). He has won numerous competitions, including the Hvar International Composition Competition (Croatia), the CCM Philharmonia Composition Competition,the Gluck Brass Quintet Composition Competition, and was the 1998 recipient of the coveted Stanley Wilson Composer's Award (UCLA).
The music of Robert Denham is diverse, although there are common threads that unify every piece he writes. One of these, an emphasis on the vernacular, manifests itself by means of stylistic reference. For instance, several of his pieces make use of jazz or other popular sources by either borrowing the style completely, or employing rhythms or chord structures that evoke it. There is also a flare for the dramatic in Denham's music, as if events were unfolding much as they would on a theatrical stage. In this case, the music may not be overtly programmatic, but it does seem to suggest physical movement or an unseen plot.
Available Compositions
Two Soliloquies for Solo Flute
Household Appliance Suite for Two Trumpets
Patchworks for Piano
Span (from here to there) for Mixed Orchestra