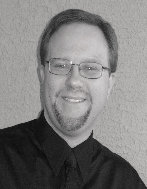 Matthew C. Saunders is Assistant Professor of Music at Oklahoma Panhandle State University, where he is also Director of Bands. He earned the degree of Bachelor of Music from the University of Cincinnati College-Conservatory of Music, and the degrees of Master of Music and Doctor of Musical Arts from The Ohio State University. He has studied composition with Donald Harris, Thomas Wells, Jan Radzynski, Joel Hoffmann and Wes Flinn. His music received the 2007 Ruth Friscoe Prize for Composition and has been performed in Ohio, Kansas, Oklahoma, Texas, Missouri, New York, Georgia and the United Kingdom, by groups including the Ohio State University Wind Symphony and Symphony Orchestra, the Lake String Quartet, the Lorain County Community College Concert Band, the Oberlin Choral Spectrum and the Macon (Georgia) Symphony Orchestra.
Dr. Saunders' compositional output includes works for symphony orchestra, wind ensemble/concert band and chorus as well as chamber music, art song and electroacoustic composition. He brings to the craft of composition a passion for the individual performer, and is most happy composing with a performer or ensemble in mind. As such, his music is practical, personal and appealing, and firmly rooted in the belief that the performance of music should be a joyful experience for the musician. Dr. Saunders' compositional style is essentially rhythmic in its conception, with an emphasis on assymetrical meters and polyrhythmic structures. While his oeuvre exhibits occasional forays into indeterminate and serial composition, he emphasizes the use of traditional notation to explore an essentially modal sound world in which melody arises from rhythmic and metrical concerns and harmony is frequently an expression of timbral constructions.
A performer himself, Dr. Saunders studied the trombone with Tony Chipurn and Joseph Duchi, and performed the solo trombone parts in the premieres of his Homo sapiens trombonensis for trombone and wind ensemble, his chamber piece Martian Dances and his Let Everything that Has Breath Praise the Lord for trombone with electronic accompaniment. As a wind conductor, Dr. Saunders has led the premieres of several of his own pieces for concert band and chamber ensembles. He and his wife, Becky, live in Guymon, Oklahoma.
Available Compositions