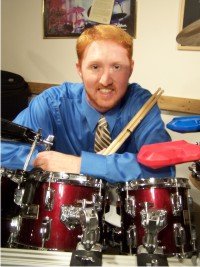 Percussionist, Matthew Nordhausen is originally from Hilton, New York, where he first studied the art of percussion with Mr. John Russi & Mr. Timothy Stodd. Matt attended Fredonia State University majoring in both History and Music Education, and continued his percussive studies with both Dr. Kay Stonefelt and Mr. John Bacon. In 2005, Matthew then completed a Master of Music performance degree in Conducting also at Fredonia State University, where he studied with Dr. Paula Holcomb.
Matt performs regularly as a freelance percussionist and conductor for area musicals, plays, and shows, with groups such as Batavia Rotary and Westside Theatre Productions. He also performs with the Roberts Wesleyan College Community Orchestra, under the direction of Dr. Paul Shewan. In addition, he is the drummer/percussionist for Point of View Entertainment¿s Rock-Cover Band and Jazz Trio (www.pointofviewband.com), which perform throughout the Western New York area. An avid instructor and performer alike, Matt has taught and performed with both the Rochester Crusaders (2003), and the Empire Statesmen Drum & Bugle Corps (96, 97, 98, 04, 05 & 06).
Aside from his performance activities, Matt has been very involved in several musical groups and organizations. He is currently an active member of the Percussive Arts Society (PAS), the New York State School Music Association (NYSSMA), the Genesee-Wyoming Music Educators Association (GWMEA), New York State Field Band Conference (NYSFBC), and the Music Educators National Conference (MENC). While at Fredonia, he was president of the Fredonia Percussion Guild, as well as Universal Pulse, two groups, which promote percussion awareness through clinics and performances.
Over the course of his career, Matt has been the recipient of several awards and honors, such as the 2001 Fredonia Concerto Competition, which allowed Matt to perform as a featured soloist on xylophone with the Fredonia Symphony Orchestra. He has been inducted into both Phi Alpha Theta, an international history honor society and Kappa Delta Pi, an international education honor society. Matt was also the first recipient of the Morris R. Poummit Concert Master Award in May of 2001.
Compositionally, Matthew has been composing and arranging since 2001 for an assortment of musical idioms, most notably solo percussion, percussion ensemble, marching band, winter drum line, and concert ensembles. Currently, he teaches percussion privately out of his home in North Chili, NY, where he lives with his wife Jessica. In addition, Matthew is an instrumental music teacher for the Le Roy Central School District (www.leroynymusic.com), as the Director of the Wolcott Street School Band, Jr. High School Band, Marching Band (04 & 05 NYSFBC Small School Div. III Champions), Percussion Ensemble and 6th Grade Jazz Ensemble.
Available Compositions
Band Warm-ups
Swingin' Knights for Marching Percussion/Indoor Percussion