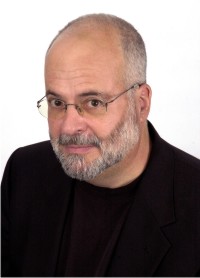 Mark Zuckerman (b. 1948) has written extensively for virtuoso soloists, chamber ensembles, a cappella choir (including an internationally-recognized collection of Yiddish choral arrangements), wind ensemble, and string orchestra, with work acclaimed as "intriguing music of deceptive simplicity ... subtle, persuasive and, quite simply, beautiful" and "highly accessible...quite moving." A Princeton Ph.D. in composition, he taught at Princeton and Columbia and published numerous articles and a book drawn from his popular jazz survey course. He also played saxophone in stage bands; clarinet, sax and keyboards in rock bands; washtub bass in bluegrass and jug bands; and sang in several Yiddish choirs. Zuckerman¿s music is available from a number of commercial music publishers and CD labels and has been performed and recorded by a variety of prestigious soloists and ensembles on four continents.
Zuckerman was featured recently on New Jersey Network's television program, State of the Arts, in a segment focusing on the production of his opera, The Outlaw and the King, at Rutgers University.
Zuckerman had his first public performance at age 11 with a piece he wrote for his grade school orchestra in Ardsley, NY. His formal music studies began at the Julliard Preparatory Division and continued at the University of Michigan, Bard College (AB 1970) and Princeton University (PhD 1976). Zuckerman's composition teachers include David Epstein, Ross Lee Finney and George B. Wilson (U. of M.), Elie Yarden (Bard), and Milton Babbitt and J. K. Randall (Princeton).
Mark Zuckerman received a 2004 Fellowship from the New Jersey State Council on the Arts and a 2009 Renée B. Fisher Composer Award, and was winner of the 2010 Boston Metro Opera choral competition and the first annual Hal Campbell Composition Competition. His recent commissions include the Live Music for Dance program of the Geraldine R. Dodge Foundation and the American Music Center, Rutgers University Wind Ensemble, Lone Star Brass, and the Santa Cruz Chamber Orchestra.
Zuckerman has been a member of the music departments at Princeton and Columbia Universities, teaching a wide variety of subjects ranging from a popular jazz survey course to graduate courses on esoteric twentieth-century music theory to computer music. He held Visiting Professor of Music and Visiting Artist appointments at Rutgers University, supervising workshop presentations of his opera, The Outlaw and the King, with support from the Geraldine R. Dodge and Edward T. Cone Foundations.
He has published Listen...Hear, an introductory book on listening to jazz, and a number of scholarly and technical papers on jazz, musical analysis, and digital sound synthesis. He has been an Associate Editor of Perspectives of New Music and has lectured, presented papers, and moderated talks at various schools and conferences including the American Musicological Society, Music Computation Conferences, Massachusetts Institute of Technology, the University of Illinois, the University of Washington, the Manhattan School of Music, and the Polytechnic Institute of New York.
Zuckerman has produced contemporary music concert series and radio programs (heard on public radio), and wrote and produced incidental music for theater. Under the auspices of the New York State Council of the Arts, he conducted the premiere performances of the opera "Eros and Psyche," by Elie Yarden and Robert Kelly. He founded and served as Composer-in-Residence of Di Goldene Keyt, The Yiddish Chorale.
He is a member of the American Composers Alliance (ACA); the Society of Composers, Inc.; the American Music Center; the American Composers Forum; the Composers' Guild of New Jersey; and the Center for Promotion of Contemporary Composers. He has served on the Board of Directors of the International Society for Contemporary Music and the National Yiddish Book Center; he currently serves on the ACA Board of Governors.
Zuckerman has made his home in Roosevelt, NJ, for more than 35 years.
Available Compositions
By Way of Introduction (Brass Quintet)
North Country Dance (String Orchestra)