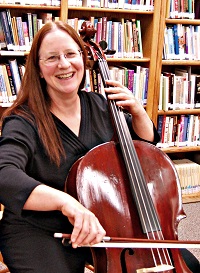 Marcia Stockton is a cellist and composer from Nevada's CarsonValley, below LakeTahoe in the shadow of the high Sierras. Her music studies started early with piano (age 4) and cello (age 8) and continued throughout high school where she played in the county youth orchestra, and conducted and sang in vocal ensembles.
She majored in music at Swarthmore College (1975) with a focus on music theory. Her cello teachers included Philadelphia Orchestra cellists Harry Gorodetzer and William Saputelli. As an aspiring cellist she played in two Philadelphia-area amateur orchestras: the Main Line Symphony and the Musical Coterie of Wayne (as principal cellist).
Putting music aside for a time, Marcia had a professional career in the computer industry, starting as a programmer in 1983. She joined IBM in 1988 as to lead a team architecting network protocols, and eventually became a senior technical staff member with a leadership role in IBM's software group. There she gained special recognition as a master inventor with over 50 software patents. After leaving IBM, she and her husband lived in seclusion for a decade, off the grid, on their back-country ranch in the southern Sierra Nevada mountains.
Several of Marcia's works composed from 1995 to the present were premiered in the Fall of 2013 by the Carson Valley Sinfonia. Now retired for the second time with her husband Greg, two cats and two horses, Marcia composes and arranges music for student string orchestra and small wind ensembles, as well as sacred works. She also enjoys photography, gardening, chess, baseball and ham radio. Marcia finds creative inspiration in music from all eras, and especially enjoys discovering familiar-yet-new sounds that surprisingly emerge when new harmonies combine within traditional forms.
Available Compositions
Allegheny Legend (String Orchestra)
Allegheny Legend (Concert Band)
Challenger Deep (String Orchestra)