Jonathan Annis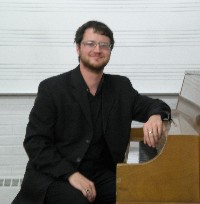 Jonathan Annis is a graduate research assistant at the University of Oklahoma pursuing a Master of Music degree in music composition. He holds a Bachelor of Music degree
from Carson-Newman college with majors in music composition, music theory, and saxophone performance. His primary composition teachers include Marvin Lamb, Ryan Garber, Jeff Gorbski, and Bruce Reiprich. He has also participated in a masterclass taught by Nancy Van de Vate Jonathan was chosen to present "This Title May Vary" on the CMS Pacific Southwest conference 2012 held in Tucson, AZ.

As a performer, Jonathan has performed with the CBDNA Intercollegiate Band, the National Wind Ensemble at Carnegie Hall, the Knoxville Wind Symphony, and on a
recital at the Sing und Musikschule der Stadt Memmingen in Memmingen, Germany. Jonathan has also performed in a masterclass taught by Lars Mlekusch (Vienna Conservatory of Music).

As a composer, Jonathan's work has been recorded by the University of Tennessee at Knoxville's orchestra under the direction of James Fellenbaum, Carson-Newman University's A cappella Choir directed by Dr. Eric Thorson, and Carson-Newman's Wind Ensemble under the direction of Dr. Jeff Gorbski.
Available Compositions