Jennifer Castellano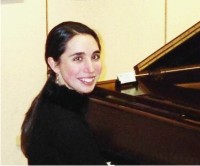 Jennifer M. Castellano received her Bachelor of Arts in Music in classical piano from Manhattanville College and a Master of Music in composition from Purchase College. She has studied piano with Donna DeAngelis, Catherine Coppola and Flora Kuan and composition with Mary Ann Joyce-Walter, Huang Ruo, and Joel Thome.
She has performed as a soloist and chamber musician in New York and New Jersey and was a featured soloist in the 2008 Summer Concert Series in Cape Cod at the First Congregational Church in Wellfleet, MA. Jennifer has written works for solo instruments, small ensembles and chamber orchestra. Besides her great love of birds, many of Jennifer's compositions reveal her philosophy regarding similarities between sound and color as well as music and visual imagery. Her music is published by Imagine Music, and recorded performances of her works have been featured on the weekly radio program Classical Discoveries losted and produced by Marvin Rosen on WPRB 103.3 FM - Princeton, NJ.
Jennifer, who is both visually and hearing impaired, is a member of the Association of Adult Musicians with Hearing Loss, Piano Society, ASCAP and serves as Secretary/PR Coordinator for New York Women Composers. She is a member of the music faculty of The Mike Risko Music School and is a member of the recreation staff applying music therapy techniques at Sunshine Children's Home & Rehabilitation center, a nursing facility that specializes in the care and treatment of medically complex children who require post acute, rehabilitative care.
Read more about Jennifer:Emerging Talent: Jennifer Castellano
Available Compositions
Spectrum (Seven Preludes for Piano)
Spectrum (CD): Music Composed & Performed by Jennifer Castellano