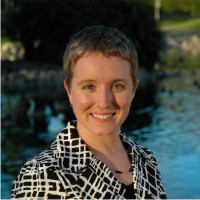 Jenni Brandon (b. 1977) is an award-winning composer whose music has been commissioned by many ensembles and performed in venues across the world, including Zankel Hall in Carnegie Hall. Among the ensembles that have performed her works are the Musical Arts Quintet, Yale Glee Club, The Singers-Minnesota Choral Artists, UT Arlington Wind Symphony, Conundrum, the Young New Yorkers Chorus, Vox Femina, the Sundance Trio, and Voices of Ascension. Jenni also makes guest composer appearances across the country, frequently giving talks on the business of music and musician collaboration.
She is active as a conductor and was the music director of The Concert Singers in Los Angeles for nine years, and often makes guest appearances with ensembles to conduct her works and other works. Active also as a mezzo-soprano, she has appeared with the Boston Pops, Pacific Chorale, Los Angeles Philharmonic, and at the Hollywood Bowl.
Her first CD Songs of California: Music for Winds and Piano was nominated for the 10th Independent Music Awards, and she is the 2012 recipient of the American Prize for Choral Composition and the 2014 winner of the Women Composers Festival of Hartford International Composition Competition. Her music can also be found on recordings by the Musical Arts Woodwind Quintet, Sundance Trio, Ceora Winds, Yale Glee Club, Sistrum, and CDs of oboists Rebecca Henderson, Laura Medisky and Ryan Zwahlen, as well as flutist Jenni Olson on labels including Delos, Albany, Centaur, and Longhorn. Jenni's music is published by Boosey & Hawkes, Santa Barbara Music Publishing, Graphite Publishing, TrevCo Music Publishing, Imagine Music Publishing, and Jenni Brandon Music. She received her B.M. Composition from West Chester University, M.M. Composition from UT Austin and graduate work at the University of Southern California. Jenni is also a Registered Yoga Teacher (RYT) 500 and Registered Prenatal Yoga Teacher (RPYT) through Yoga Alliance and teaches in Long Beach, California.
Please visit www.jennibrandon.com for more information.
Available Compositions