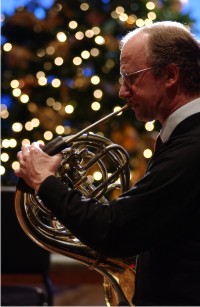 Jeffrey Powers, Associate Professor of Horn, Baylor University School of Music, is a native of San Antonio, Texas, where he attended John Marshall High School. He holds a Bachelor of Arts degree with "Honors in Music" from Austin College in Sherman, Texas, and a Master of Music in Horn from the Cleveland Institute of Music. His major instructors were James London of the Dallas Symphony Orchestra, Albert Schmitter and Myron Bloom of the Cleveland Orchestra, and Roy Waas of the Buffalo Philharmonic. Mr. Powers was elected to Pi Kappa Lambda-the national music honor society-by his fellow faculty in 2003.
Mr. Powers played fulltime professionally and internationally in symphony orchestras for twenty-three years. Having begun his career as second horn in the Hong Kong Philharmonic, Mr. Powers then served as second horn in the New Jersey Symphony, fourth horn in the Philharmonic of Caracas, Venezuela, and fourth horn and Wagner tuba in the Cleveland Orchestra under Lorin Maazel and Christoph von Dohn nyi.
Then followed sixteen years as principal horn with the Royal Philharmonic of Flanders, Antwerp, Belgium. During his tenure in Belgium, he also performed as guest principal horn with most of the major orchestras of the Benelux (Belgium, Holland, and Luxembourg) region, including the Philharmonic Orchestra of Luxembourg, the Flemish Radio Orchestra, the Brabants Symphony Orchestra, and the Royal Chamber Orchestra of Wallonia. Presently Mr. Powers is principal horn with the Waco Symphony Orchestra and a member of the Baylor Woodwind Quintet and Baylor Brass. Mr. Powers also performs periodically with the Dallas Symphony Orchestra, the East Texas Symphony Orchestra, the Plano Symphony Orchestra, and the Texas Chamber Orchestra.
Mr. Powers has taught students of all ages, from beginners to professionals, and he served on the faculties of the Lemmens Institute in Leuven, Belgium, the Cleveland Institute of Music Preparatory Department, the Summer Music Experience in Hudson, Ohio, and the Hong Kong Government Music Administrators Office. His students are successful professional orchestra players. Mr. Powers is also on the faculty of the MasterWorks Festival, sponsored by the Christian Performing Artists Fellowship, held each summer at Winona Lake in Indiana.
Well known for his clinics and master classes, Mr. Powers has given clinics on topics such as the low register of the horn, the essentials of training young horn players, the All State experience, and playing and using the assistant horn, and he has taught master classes to students of all levels.
Available Compositions