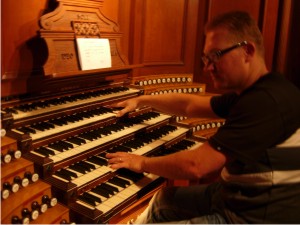 Born in 1974, Giovanni Danda began private musical studies with S. Bianchi (Theory) and G. Donati (Piano and Organ), followed by studies at the "Pontificio Istituto Ambrosiano di Musica Sacra" in Milan, Italy. Among his teachers were L.Molfino and L.Migliavacca (Harmony), G.Bredolo (Choral Conducting), A.Turco (Gregorian Chant), and F.Castelli (Organ and Piano). He continued his Organ studies with E. Vianelli (titular organist of Milan's Cathedral) and C. Riva (teacher deputy of chapel in Milan's Cathedral), deepening his interpretation of romantic and modern organ repertoire.
From 1995 to 1998, Danda was the featured organist with the "S.Eusebio Choir" of Agrate Brianza in Milan, Italy. In 1996, he was invited to accompany the same choir to the international manifestation"Wien Internationales Adventsingen" in Vienna.
In 1996 he took part in Organ master classes on the interpretation of works for organ by M.E. Bossi with A. Sacchetti.
Danda has been devoted to the study of Organ's Improvisation. In 2002, Danda participated in the "Organ Improvisation Course" organized by the "Comitato Organistico Cremonese" and by "Associazione Italiana Organisti di Chiesa". He studied with S. Rattini (Baroque improvisation) and F. Caporali (modal, atonal and free improvisation) on the Great "Mascioni" Organ of Cremona Cathedral.
Between 2004 and 2006 he attended the course "Organ Improvisation" organized by the "Pontificio Istituto Ambrosiano" in Milan, Italy, where he studied with F. Caporali.
In 2010 and 2011 he participated in master classes with Yanka Hekimova on the Great "Van den Heuvel" Organ in St. Eustache, Paris.
In 2012 he collaborated with the "Choro Lauda Sion" in Italy on numerous concerts. Danda has also recorded a CD with the same group entitled ¿Verbum caro factum est¿ (ed. Sonitus, Italy). In addition, he has recorded another CD entitled ¿Organ¿s Chamade¿ (ed. Sonitus, Italy).
Since 1989 he has been organist in St. Martin Church in Ispra, participating in concerts as a soloist and vocal and instrumental groups.
Available Compositions
Abete di Natale (O Christmas Tree) (SATB a cappella)
Abete di Natale (O Christmas Tree) (TTBB a cappella)