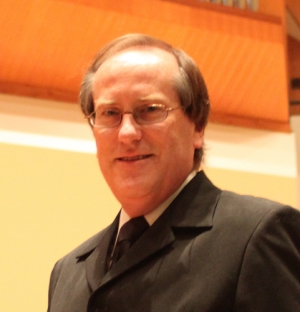 Carl Rath, Professor of Bassoon at the Lawrence University Conservatory of Music, and Emeritus Professor of Music at the University of Oklahoma, is an internationally recognized teacher and performer. He has been soloist with bands and orchestras in the United States, Europe and Taiwan, as well as performing recitals and teaching master classes in Argentina (2003 Buenos Aires Music Festival), Hungary, England, China, andTaiwan. For seventeen years, he was solo bassoonist with the Classical Music Festival in Austria, appearing as concerto soloist in several concerts. Since 1980, he has been teaching and performing at the Red Lodge Music Festival, in Montana, each summer. Rath is a popular performer at International Double Reed Society (IDRS) annual conferences, and he was a host for the successful Conference at the University of Oklahoma in 2010.
Rath served as Principal Bassoon in the Oklahoma City Philharmonic Orchestra from 1991 - 2012. While at the University of Oklahoma, he performed and soloed with the Academia Filarmonica, and was bassoonist in the Oklahoma Woodwind Quintet for 31 years. He continues to perform in the Brightmusic Chamber Ensemble (OKC).
Rath has arranged/transcribed close to 100 works for various ensemble combinations. In April, 2010, he was a Performing Artist-in-Residence for the Great Falls Symphony ChinookWinds, for whom he arranged a 50 minute multimedia tribute to the music of The Beatles. A special arrangement of Rodgers' & Hammerstein's "Oklahoma" was performed at the 2010 IDRS Conference by more than 100 double reed players! Rath has also arranged several compositions for the Bocal Majority/Operation O.B.O.E. double reed summer camps, and for Bocal Adrenaline, a professional ensemble of 2 bassoons and 2 English Horns.
In 1982, he formed the Sooner Bassooners to encourage his students and complement his teaching. The arrangements are a pedagogical approach to learning for the students, as well as providing a unique experience for audiences. Rath and some of his former students are heard on the recently released CD, Landscapes(MARKRecords).
Rath is the drummer in MidLife Crysis, a band he formed in 1990. A popular music enthusiast, he teaches courses in popular music history. He is a conductor for the symphony shows of 1964...the Tribute, No. 1 Beatles Show in the World.
Rath earned the Bachelor of Music Education in 1975 from the Lawrence University Conservatory of Music, where he graduated with Distinction in Performance honors. He earned the Master of Arts in bassoon performance in 1977 from the University of Denver Lamont School of Music. At OU, he has received both the OU College of Fine Arts Outstanding Faculty Award and Fine Arts Faculty Peer Recognition Award.
Available Compositions
Academic Festive Overture (4 Bassoons & Contrabassoon)
Arabian Dance (Der Fagottknacker) (4 Bassoons & Contrabassoon)
Chinese Dance (Der Fagottknacker) (4 Bassoons & Contrabassoon)
Dance de la Fee-Dragee (Der Fagottknacker) (4 Bassoons & Contrabassoon)
Dance of the Merlitons (Der Fagottknacker) (4 Bassoons & Contrabassoon)
Dona Nobis Pacem (Bassoon Trio)

March (Der Fagottknacker) (4 Bassoons & Contrabassoon)
Overture (Der Fagottknacker) (4 Bassoons & Contrabassoon)
Staccato Ostinato (4 Bassoons & Contrabassoon)

Trepak (Der Fagottknacker) (4 Bassoons & Contrabassoon)

Waltz of the Flowers(Der Fagottknacker) (4 Bassoons & Contrabassoon)