Caleb Wenzel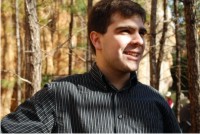 Caleb Wenzel (b. 1988) is quickly building a career as a conductor, composer, and church musician, specializing in the choral art.
Caleb's work as a composer has garnered awards and commissions from numerous professional, amateur, and educational ensembles and organizations including Minnesota Center Chorale, National Association of Pastoral Musicians, Texas Music Teacher's Association, Arlington Music Teacher's Association, and The International Foundation for Sacred Music Composers. Ever interested in the role of music in worship, Caleb has composed extensively for liturgical praxis. His liturgical works are regularly used in Catholic, Anglican, Methodist and Lutheran churches across the United States. In 2011, Caleb was selected to present his undergraduate honors thesis, Sing a New Song: Composing Music for the 21st-Century Roman Liturgy, before the Minnesota State Congress as part of a lobbying event to promote the support of undergraduate research in science, art and culture. In 2012, Caleb was invited to present on composing congregational repertoire at The University of Notre Dame's first international sacred music conference, James MacMillan and the Musical Modes of Mary and the Cross.
As a conductor, Caleb is active in the creation of new music. In 2008, he founded the St. Jude Chamber Choir, which performed six world premieres and three South-West regional premiers during his two-year tenure with the ensemble. While at St. John's University, Caleb co-founded Tempo Giusto Chamber Orchestra, the university's only ensemble dedicated to the performance of new music. In the Spring of 2013, Caleb will conduct the world premiere of Eran Lupu's Te Deum, for choir, organ, and percussion. Caleb is frequently sought as a presenter and clinician for high school and church choral ensembles. He has prepared choirs for performances under the direction of Leo Nestor, Lee Nelson, Murry Sidlin, Andre Heywood, and David Searle. In 2011, Caleb assisted in the preparation of the College of Saint Benedict/Saint John's University Chamber Choir for a performance of Leonard Bernstein's Chichester Psalms with the choir from St. Martin-in-the-Fields, London.
An accomplished pianist and organist, Caleb has performed recitals across the United States and is frequently noted for his expressively and instantaneous connection with audiences of all ages. He has appeared as a concerto soloist with the College of Saint Benedict/Saint John's University Symphony Orchestra, and was a 2008 finalist in the Saint Cloud Symphony (MN) young artists concerto competition. In the winter of 2008, Caleb completed his first tour of piano recitals in schools entitled Piano, Bang, Boom, which he repeated in 2009 to great success. The entertaining and interactive performance of classical and new works reached over 250 students of inner-city grade schools. An avid performer of new works, Caleb has performed near 30 world premieres, and has twice performed with the Great Noise Ensemble, Washing DC's premier new music organization.
Caleb holds a BA cum laude with distinction in music composition and piano performance from Saint John's University (Collegevill, MN) and is currently studying Sacred Music and Choral Music at The Catholic University of America (Washington, DC) under the tutelage of Leo Nestor, where his is a graduate assistant for music and liturgy. His work as an organist and composer has been broadcast worldwide from The Basilica of the National Shrine of the Immaculate Conception. Caleb is the choir director at Little Flower Parish in Bethesda, Maryland, a university organist at CUA, and maintains an active schedule as a pianist, organist, conductor and composer.
Available Compositions
Agnus Dei (2-part Voice, Piano & Oboe)
Be With Me, My Strength (SATB, Piano & Solo Instrument)
Behold, One Has Died (SATB a cappella)